Calendar
2017 General Meetings & Special Events

CAS Monthly Meetings and Astronomical Programs are held the Saturday closest to the Full Moon at the Mars Hill Campus of Lowell Observatory, Hendricks Center for Planetary Studies Auditorium (6:45 pm - 8:00 pm., unless otherwise noted) followed by refreshments, and informal discussion. Meetings are open free to the public.

---
Saturday, January 14, 2017


Dr. Michael West, Lowell Observatory

Title: "Galactic Cannibalism"


Telescopes capture images of large galaxies devouring smaller ones in brazen acts of cosmic cannibalism. Like detectives at the scene of a crime, astronomers search for clues to reveal the violent histories of these cannibal galaxies and their victims. But separating the cannibal from the cannibalized isn't always easy.

---
Saturday, February 11, 2017


Dr. Christopher Edwards, NAU

Title: "300 Years of Space Exploration: What Have We Learned About Earth's Neighbor, Mars?"


Ever since early humans walked the Earth, we have explored our surroundings, whether for subsistence, acquisition of property, or intellectual reasons. Despite our Earthly accomplishments, no other endeavor has inspired humankind quite like the exploration of outer space. On this tour of the exploration our solar system, we will focus on recent findings from Mars due to the wealth and diversity of data returned from spacecraft in the past two decades. New and exciting discoveries paint Mars as an active and potentially habitable world, which we are just beginning to understand.

---
Saturday, March 11, 2017


Dr. David Koerner, NAU

Title: "Detection of Exoplanets"


In the last two decades, astronomers have detected thousands of planets around stars other than the Sun. Their number and properties imply that the universe has many places where life could exist.

---
Saturday, April 8, 2017


Dr. Donald Hutter, NPOI, Naval Obs.

Title: "Optical Interferometry, the Super-Eyes of Astronomy"


The Navy Precision Optical Interferometer is an array of ten telescopes with the resolving power equivalent to a single telescope with a 325 foot mirror, and capable of measuring high-precision stellar positions, and sizes, and able to image features on their surfaces. Dr. Hutter will present a short description of the principles and history of optical interferometry, and describe the NPOI facility at the dark-sky site on Anderson Mesa, along with recent scientific results and prospects for the future.

---
Saturday, May 13, 2017


Dr. Ethan Dolle, NAU

Title: "Shedding some Light on Dark Matter"


Dark matter is an unidentified type of stuff that could comprise as much as one third of the mass/energy in the Universe that is not accounted for by standard matter, Neutrinos, or Dark Energy. Dr. Dolle will be discussing its evidence, and what it could be beyond the standard models in cosmology and particle physics.

---
Saturday, June 24, 2017


Dave & Kris Frisk's Observatory, Williams

Title: Annual CAS Picnic and Observing Meeting


Open to CAS membership and invited friends – Time: 6:00 pm

---
Saturday, July 8, 2017


Dr. Audrey Thirouin, Lowell Observatory

Title: "Contact Binary in the Trans-Neptunian Belt"


A contact binary is a system of two separated objects almost in contact, but it can also be an object consisting of two lobes in contact (bi-lobed object with a peanut/bone shape). This kind of peculiar system/object is found across all the small body populations in our Solar System, from the Near-Earth Objects population to the Trans-Neptunian belt.


Contact binaries in the Trans-Neptunian belt are not resolvable with the Hubble Space Telescope because of the small separation between the system's components. Only light curves with a characteristic V-shape/U-shape at the minimum/maximum of brightness and a large amplitude can identify these objects. Despite an expected high fraction of contact binaries, so far only one has been found in the Trans-Neptunian belt. If the contact binaries are so common, where are they?

---
Saturday, August 5, 2017


Dr. Kenneth Herkenhoff, USGS

Title: "The Mars Rovers: A Brief History"


Four roving vehicles have been successfully operated on Mars. Two of them continue: The Mars Exploration Rover "Opportunity" and the Mars Science Laboratory "Curiosity." Dr. Herkenhoff will briefly summarize the history of Mars rover missions, their resulting scientific inferences, and the plans for future Mars rover missions.

---
Saturday, September 9, 2017


Dr. Joe Llama, Lowell Observatory

Title: "Detecting and Characterizing Other Worlds"


The first exoplanet was discovered twenty years ago, and since then we have confirmed over two thousand other worlds, some of which are completely unlike anything we've ever found in our own Solar System. The most extreme examples of these are "Hot Jupiters", planets even more massive than Jupiter, but orbiting their star closer than Mercury. In this presentation, Dr. Llama will review the state-of- the-art techniques astronomers are using to detect other worlds. He will discuss how these worlds have completely changed our understanding of how planets and solar systems, including our own, form and evolve, and also touch on the best prospects for finding habitable, Earth-sized planets within our galaxy.

---
Saturday, October 7, 2017


Dr. Brent Archinal, USGS, CAS

Title: "How to Map the Solar System"


Dr. Archinal, from the USGS Astrogeology Science Center in Flagstaff, will cover the topic of planetary mapping. Included will be a brief general history of planetary mapping, NASA and other missions that have returned data from throughout the solar system, and the steps taken to turn such data into "maps" that consist of useful knowledge for exploration and science.

---
Saturday, November 4, 2017

Title: CAS Member Activity Presentations


Each year many CAS members are active in the pursuit of their avocation, Amateur Astronomy. At this meeting 4-6 members will present 10-15 minute overviews of their astronomical activities and achievements they were involved in during the preceding year. With several members traveling to view the Total Solar Eclipse of August 21, 2017 at varying locations along the eclipse center line, this event should be well represented.

---
Saturday, December 2, 2017 - Time and Location TBA

Annual CAS Holiday Party


Open to CAS membership and invited friends.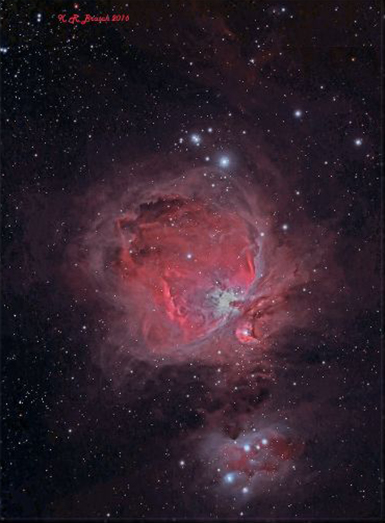 © 2016 Klaus Brasch


Hello Everyone,


We wish you all the best for the coming year 2017 and hope that this image of the Orion nebula is a reminder of the beauty and majesty of the universe we live in, regardless of the turmoil that seems to dominate much of the tiny planet we call home.

. . . Klaus and Margaret


Past Calendar archives


Williams Public Viewing
Friday - ( at Sunset )

May 5, 2017 ( 7:18 pm )
June 2, 2017 ( 7:39 pm )
June 30, 2017 ( 7:47 pm )
July 28, 2017 ( 7:35 pm )
Aug. 25, 2017 ( 7:05 pm )
Sept. 29, 2017 ( 6:15 pm )
Oct. 27, 2017 ( 5:39 pm )

Directions for Williams

Location: Glassburn Park - in the natural area west of Rod's Steakhouse parking lot. Take I40 west. Exit 165 into Williams. The park is about 2-3 blocks after the hill, just past the edge of town on the right.

Club Observing
Saturday - ( at Sunset )

Jan. 28, 2017 ( 5:53 pm )
Feb. 25, 2017 ( 6:21 pm )
March 5, 2017 ( 6:28 pm )
April 22, 2017 ( 7:08 pm )
(with Lyrid meteors)
May 20, 2017 ( 7:30 pm )
June 24, 2017 ( 7:47 pm )
July 22, 2017 ( 7:40 pm )
Aug. 19, 2017 ( 7:12 pm )
Sept. 16, 2017 ( 6:34 pm )
Oct. 21, 2017 ( 5:46 pm )
(with Orionid meteors)
Nov. 18, 2017 ( 5:21 pm )
Dec. 16, 2017 ( 5:18 pm )

Board Meetings
Thursdays

January 19, 2017
March 16, 2017
May 11, 2017
July 27, 2017
(Changed) Sept. 14, 2017
November 16, 2017






M31 - a mosaic of 8 images
© 2014 Klaus Brasch



Lunar Eclipse - April 15, 2014
© 2014 Richard McMichael



The Triangulum Galaxy (M33)
© 2015 Eric Marlatt



Buffalo Park Star Party 2015
© 2015 Russ Ruggles


CAS Programs & Speakers

Located in Flagstaff, AZ, the CAS draws expert program speakers from many sources, including Lowell Observatory, the U.S. Geological Survey, the Naval Observatory, Northern Arizona University, Coconino Community College, as well as from other Arizona based organizations, our own knowledgeable membership, and occasionally from other state astronomical groups. CAS also helps STAR School, near the Navajo reservation, as well as the Hopi with their astronomical programs.

Williams Public Observing

On the Friday evening closest to First Quarter Moon, April through October, CAS hosts its monthly community outreach program to educate and promote interest in Astronomy to the general public. CAS members set up their telescopes at Glassburn Park in Williams, and invite the public free of charge to observe the Moon and other visible objects in the night sky


The general public is always cordially invited to attend any of our public presentations free of charge.

CAS Membership
We welcome anyone interested in astronomy

Membership in CAS is open to anyone interested in learning more about astronomy and telescopic ob- serving. Membership entitles you to attend, and be involved with, the monthly general meetings, as well as special club events, observing sessions, and star parties, at our Dark Sky Observing Site. Annual events and monthly meeting reminder postcards with current happenings are mailed to all Members.


Besides "Regular Membership," CAS has available "Household Memberships" for two adults at the same address, "Junior Memberships" for students, as well as "Sponsoring Memberships" for those wishing to help support the Society.


If you are interested in becoming a member use the brochure application form, or the one on our website. For any questions you can email us at: info@coconinoastro.org, or contact Andy Barnett, CAS Treasurer, at (928) 527-1199 (evenings).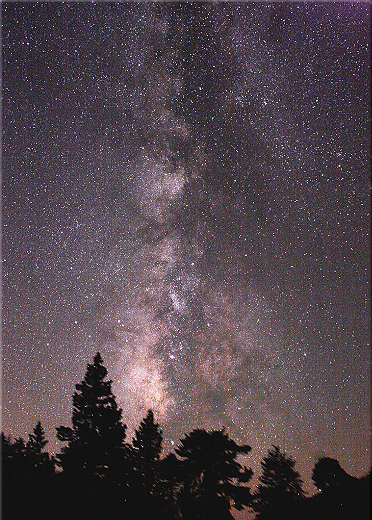 Milky Way and Pines
© 2014 Klaus Brasch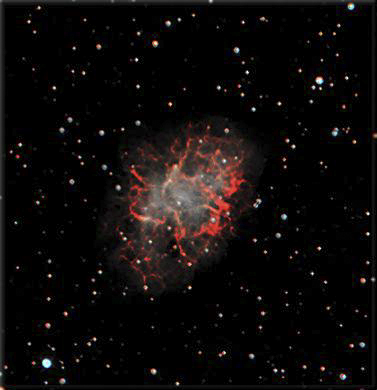 M1 - the Crab Nebula
© 2014 Russ Ruggles

What's happening in the sky and when!