Photo of the Month for July, 2019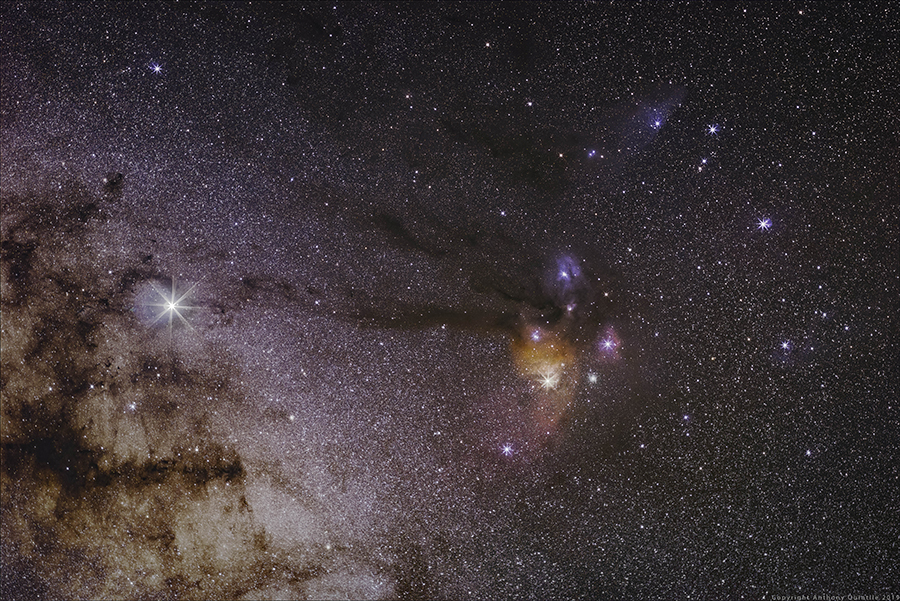 Rho Ophiuchi
June 7,2019
@ 2019 Anthony Quintile
My goal with this photo was to capture Jupiter while it was near the Rho Ophiuchi Nebula and neighbors. I was excited to also capture Callisto at 2:00 next to Jupiter, I think M4 is pretty good, considering the focal length, and, given the short exposure, I was glad to get some of the Blue Horsehead. I was also glad that M80 turned out to be a star cluster and not something I screwed up in processing.
This was my first real effort with a guided SLR lens shot, (as opposed to a telescope). I was hopeful that the "vintage" Pentax lens I bought for $30 would deliver, and I really feel it did! This image is uncropped, and although it has some distortion in the corners, I think it is pretty acceptable.
This image was shot at Doney Mountain Picnic Area near Wupatki National Monument. The bottom right corner was showing light pollution from Flagstaff. It took a lot of work in processing to get that part of the sky relatively neutral, but I learned a few new tricks. It's still not perfect. I did learn that widefield AP is far more susceptible to light pollution gradients, which is obvious I guess, but I hadn't dealt with this yet.
Anthony Quintile
---
This is not a true "Photo of the Month". There is no voting. Anyone wishing to have their astronomical photo posted here please send the request to: info@coconinoastro.org.
Activities for October 2019
---
Monthly Meeting for October
Saturday, October 12, 2019
Rick Edmonds

Title: "DOD Satellites - Up Close & Personal"
Richard Edmonds is a retired Air Force satellite Operations and Flight Director. He served over 20 years in satellite procurement, launch and orbital operations. The recent declassification of several 'Black Programs' allow that he may now talk about Photo Reconnaissance, Missile Warning, Communications and Technology Demonstrator satellites. He will discuss their launch, orbital operations and the various mission roles of Gambit, Hexagon, DSP, MILSTAR, Teal Ruby and STSS satellites. The focus will be missions and how satellites are maintained in orbit.
---
CAS Monthly Meetings and Astronomical Programs are held the Saturday closest to the Full Moon at the Mars Hill Campus of Lowell Observatory, Hendricks Center for Planetary Studies Auditorium (6:45 pm - 8:00 pm., unless otherwise noted) followed by refreshments, and informal discussion. Meetings are open and free to the public.

---
Presentation by David Nicholas
Monday, October 21, 2019

Title: "Filling the southern void: from Ptolemy to La Caille by Simon Poole and Nic David"
We are having a members onlyspecial event at Sizzler in east Flagstaff on October 21st from 6-8 pm. This will be a dinner presentation so members are responsible for their own meals and tips.
Sizzler is located at 3540 E. Route 66 in Flagstaff.
David Nicholas is a professor of ethnography at the University of Calgary and amateur astronomer.
Abstract
Ptolemy's Alexandria-based star catalogue of ca AD 150 records over a 1000 stars with a void around the South Pole. This void was progressively filled as Europeans penetrated the southern hemisphere, acquiring astronomical data for navigational purposes. We focus on the instruments and observing techniques employed and on the partitioning of the circumpolar sky into constellations.
In the 15th and earlier 16th centuries AD Iberian navigators noted the Magellanic clouds and the Coalsack nebula and identified the five stars of the Southern Cross. More systematic observations were undertaken at the end of the 16th century by Dutch explorers using cross-staffs and/or nautical astrolabes. In 1598 their mentor, Petrus Plancius, produced a celestial globe with twelve constellations around the South Pole. In the late 17th century a young Edmond Halley chose the island of St Helena as his base and used an equatorially mounted sextant equipped with small telescopes to produce a catalogue of 341 southern stars and to introduce a single short-lived constellation. Whereas Halley and his predecessors had star-hopped from known stars to establish the positions of those unknown, Nicholas-Louis de La Caille, a French astronomer and geodesist, traveled to Cape Town in 1750 to undertake a far more substantial and precise survey. Armed with a variety of sextant/quadrant type instruments and accurate clocks, he invented a sweep technique to establish the Right Ascension and Declination of 9766 stars and a number of "nebulous objects", taking account of nutation and aberration. He divided the constellation Argo Navis into three, suppressed Halley's Charles's Oak, and introduced fourteen new constellations, all of which survive. La Caille's immense work of astrometry establishing the overall structure and sidereal content of the southern skies stood for almost a century.