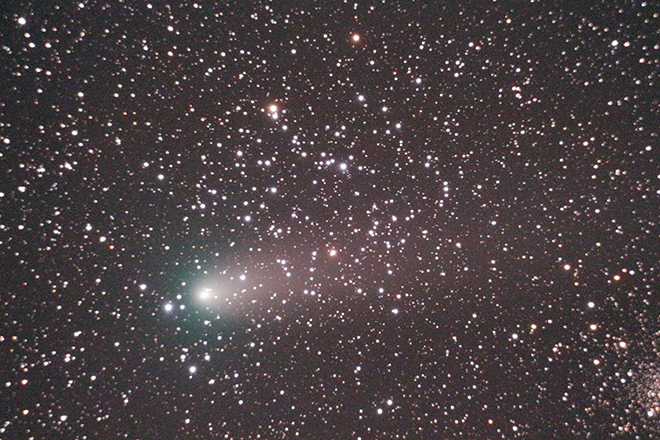 Photo of the Month for September, 2018
Comet 21P/Gliacobini-Zinner traversing M35
The above photo was taken on September 15th at 3:08 AM. The comet was reported to be traversing M35 on that date so I took a chance, slewed my telescope to M35, and shot in the blind. I never saw the comet visually or through the telescope. This one had been a real challenge to capture.

Activities for September, 2018
---
CAS Board Meeting

Saturday, September 20, 2018 at 7:00pm

---
Monthly Meeting at Lowell Observatory

Saturday, September 22, 2018
Dr. Chadwick A. Trujillo, NAU

Title: "The Search for an Undiscovered Giant Planet in our Solar System"

In the last few years, evidence has increased that there may be an undiscovered giant planet lurking in the outer reaches of our solar system. This planet could explain some of the unusual orbits we see in the most distant Kuiper Belt Objects. I'll discuss why we think the planet may be visible in the autumn night sky and how we are using the most powerful survey telescopes in the world to search for it.
---
CAS Monthly Meetings and Astronomical Programs are held the Saturday closest to the Full Moon at the Mars Hill Campus of Lowell Observatory, Hendricks Center for Planetary Studies Auditorium (6:45 pm - 8:00 pm., unless otherwise noted) followed by refreshments, and informal discussion. Meetings are open and free to the public.

For a full list of this years activities see: CAS 2018 Calendar
What's New
---
Milky Way Astrophotography
The Coconino Astronomical Society is proud to host a workshop focusing on photographing the Milky Way.
We'll meet on Saturday, September 29th, at the Eastside Flagstaff Library at 10 am. We'll have a general introduction and Q&A. We'll adjourn at noon, then meet at a site in Winona to take our Milky Way shots in the evening (Weather permitting.)
On the following weekend, October 6th, we will meet again to process our images for maximum sharpness, contrast and color. The goal of the workshop will be to produce an image appropriate for a 8 x 10 print.
Participants will be required to bring a recent DSLR kitted with a wide-angle lens, a sturdy tripod, and supporting accessories (including an intervalometer). Liability waivers will be issued and must be signed before the field session.
If you would like to attend or have questions, please email us at:
flagstaff.astrophoto@gmail.com
---
The Annual Flagstaff Star Party at Buffalo Park October 4-6
Telescopes provided by CAS members and other orginizations are going to be avaliable for viewing. Telescopes provided by CAS members and other organizations are going to be available for viewing. See the following link for further information.
CAS members wishing to participate plese use this link,
---
2018 AAVSO Annual Meeting, Flagstaff AZ - November 16-17, 2018
Information is available at the following website: 2018 Grand 2018 AAVSO Meeting in Flagstaff
---

Home || About || Membership || Calendar || Join us

---
Outreach || Flagstaff || Photos || Articles || Observing Sites || Weather || Links || Site Map

---
Coordinated Universal Time || National Weather Service
---
info@coconinoastro.org