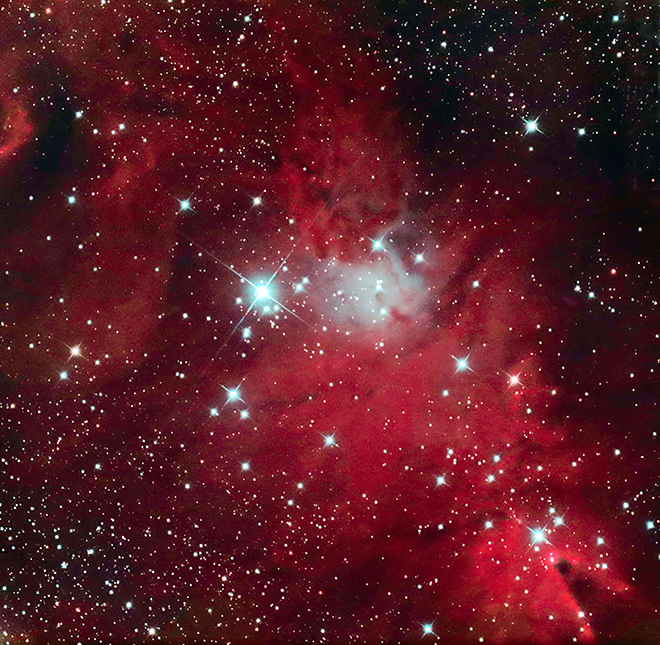 Photo of the Month for January, 2019
Winter Skies Beauty
January 4,2019
I enjoyed an extraordinarily clear night in my observatory on Jan 4, 2019, with excellent transparency and good seeing (and darn cold too!). The modest constellation of Monoceros houses two of my favorite star forming regions, the Rosette Nebula and NGC 2264, also commonly called the Christmas Tree and Cone Nebula. The latter, about 2,600 LY from us offers an array of brilliant colors, due both to emission and reflection components and some brilliant young stars set within it. I have never actually detected any nebulosity through a telescope in this object, unlike the nearby Rosette, but photographically it is a stunner.
This image is a multi-stack mosaic of several frames taken with a 12.5-inch Plane Wave telescope, and a Hutech modified Canon 6D Mark II camera and an IDAS LPS-V4 filter. Cumulative exposure was 30 minutes at ISO 6,400.
Klaus Brasch
Activities for January 2019
CAS Board Meeting

Saturday, January 17, 2019 at 7:00pm

---
Monthly Meeting at Lowell Observatory

Saturday, January 19, 2019
Wayne Johnson, CAS

Title: Hunting Supernovae for Amateur Astronomers"

Wayne (aka Mr. Galaxy) Johnson is an avid visual observer of galaxies. He uses his 25-inch telescope from the suburbs of Flagstaff every night it's not cloudy, smoky, windy or snowy. Occasionally a guest star, supernova (?), appears in one of those galaxies indicating a star several times the size of our sun is in its death throes. Wayne has discovered six supernovae using the Orange County Astronomers' 22-inch telescope in Southern California and is the first amateur astronomer to find two in one night.
---
CAS Monthly Meetings and Astronomical Programs are held the Saturday closest to the Full Moon at the Mars Hill Campus of Lowell Observatory, Hendricks Center for Planetary Studies Auditorium (6:45 pm - 8:00 pm., unless otherwise noted) followed by refreshments, and informal discussion. Meetings are open and free to the public.

What's New
---
2019 General Meetings & Special Events Update
The General Meetings & Special Events web page has been updated for 2019 ( press the "Calendar" button on the top left of this page ).
Announcement: The 2019 Club Calendar is Available
The 2019 club calendar with images submitted by our club members based on a lunar theme is available for order.

2019 Calendar Thumbnail Image

It can be ordered on the Join Us web page

Use the CAS club email info@coconinoastro.org to request an alternate payment method


Home || About || Membership || Calendar || Join us

---
Outreach || Flagstaff || Photos || Articles || Observing Sites || Weather || Links || S Site Map

---
Coordinated Universal Time || National Weather Service
---
info@coconinoastro.org