template_two_column_template
Featured Photograph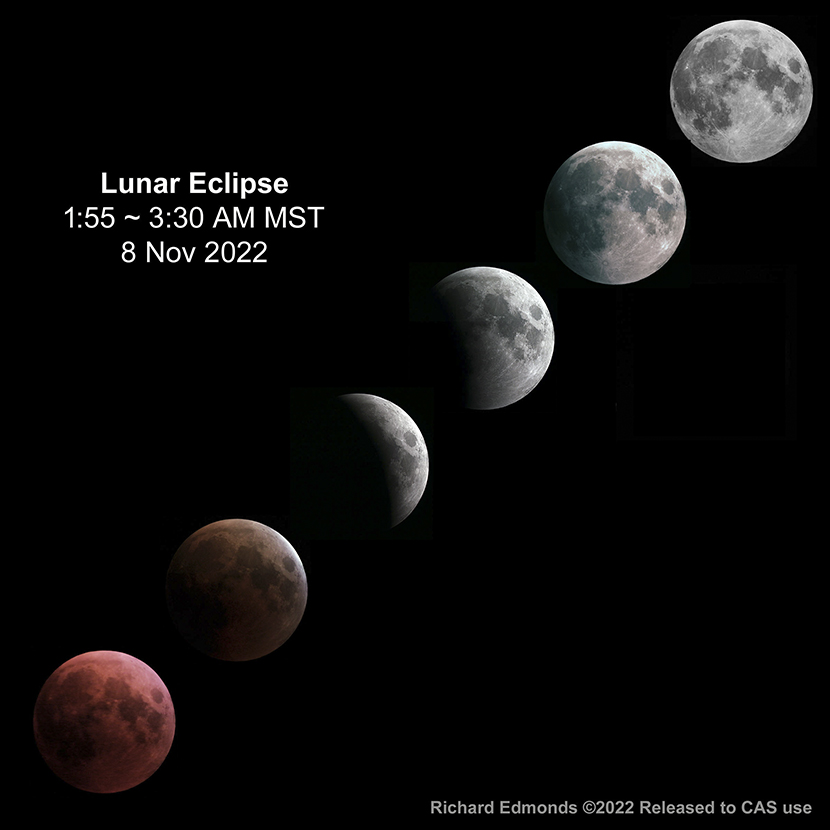 Composite sequence of the lunar eclipse on 8 November 2023. In the upper right the full moon is shown shortly after entering earth's penumbra at 1:11 AM. Shadowing of its western limb is not yet apparent. In the final image to the lower left the moon is in full umbral eclipse at 3:30 AM. Exit from eclipse was not captured due to low elevation over the San Francisco Peaks.
All images were captured at prime focus through a 10" f/6.3 Meade SCT with a modified Canon T5i camera. Exposures ranged from 1/1000s at ISO 100 to 1/25s at ISO 12800.
Richard Edmonds
---
The featured photograph is any astronomical photograph provided by one of our members. If you are a member and have a photogaph you would like to submit please send the request along with the photograph and description to: info@coconinoastro.org.
Upcoming Events for the Year
Activities for December 2023
---
Monthly Meeting for December
Saturday, December 2, 2023
CAS Holiday Party

2:00-6:00pm
Location: The Peaks Senior Living Community
Address: 3324 N. Captain Colton Lane
Type of Event: Potluck
An email is being sent to club members with further details.
---
CAS Monthly Meetings and Astronomical Programs are held the Saturday closest to the Full Moon at the Mars Hill Campus of Lowell Observatory, Hendricks Center for Planetary Studies Auditorium (6:45 pm - 8:00 pm)., unless otherwise noted) followed by refreshments, and informal discussion. Meetings are open and free to the public.