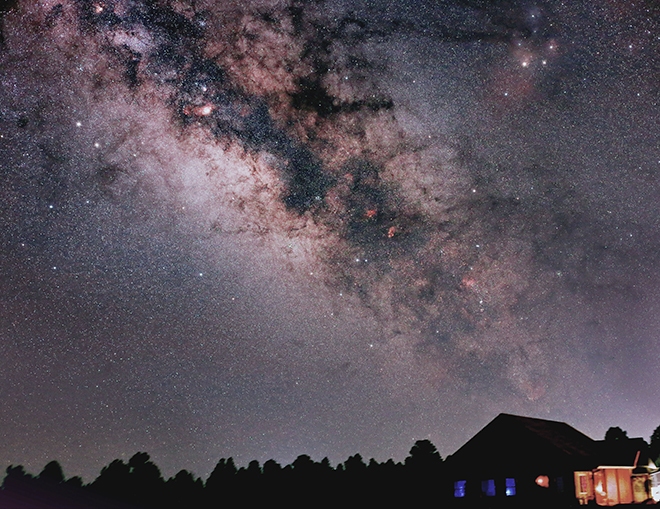 Photo of the Month for May, 2018
Milky Way from my backyard
© 2018
Klaus Brasch
Activities for March, 2018
Club Observing ( at Sunset )
Saturday, March 10, 2018 ( 6:32 pm )

---
Monthly Meeting at Lowell Observatory
Saturday, March 31 2018
Dr. Diedra Hunter, Lowell Observatory

Title: "Extended Stellar Disks of Dwarf Irregular Galaxies""

Outer disks of dwarf irregular galaxies are extreme environments at the lowest observable limit for star formation. Yet the stars that are present often have near perfect exponential profiles, suggesting an ability to organize into a standard disk which no current models can explain. Dr. Hunter will discuss ultra-deep imaging of the outer disks of dwarf irregular galaxies and what it reveals about the nature and mysteries of the extreme outer parts of tiny galaxies.

---
Activities for April, 2018
Club Observing ( at Sunset )
Saturday, April 14, 2018 ( 7:01 pm )

---
Monthly Meeting at Lowell Observatory
Saturday, April 28, 2018
Dr. Cristina Thomas, NAU

Title: "The Exciting Future of Asteroid Science"

Future new observations will add to our understanding of the small rocky bodies in our Solar System. The OSIRIS-REx spacecraft will visit near-Earth asteroid Bennu in mid-2018 to study its surface before returning a sample to Earth. The James Webb Space Telescope will launch in 2019 with a suite of instruments that will further our understanding of the compositions of asteroids. With the recent discovery of the first interstellar object, we look forward to what can be learned about planetary systems other than our own.
---
CAS Monthly Meetings and Astronomical Programs are held the Saturday closest to the Full Moon at the Mars Hill Campus of Lowell Observatory, Hendricks Center for Planetary Studies Auditorium (6:45 pm - 8:00 pm., unless otherwise noted) followed by refreshments, and informal discussion. Meetings are open free to the public.

For a full list of this years activities see: CAS 2018 Calendar
What's New in April, 2018
---
New NASA Moon Trek site added under "Science News"
Moon Trek is a major new release that significantly upgrades and builds upon the capabilities of its predecessor, NASA's Lunar Mapping and Modeling Portal (LMMP). The new Trek interface provides greatly improved navigation, 3D visualization, fly-overs, performance, and reliability. Use of the Trek interface also provides compatibility with the other portals developed by NASA's Lunar and Planetary Mapping and Modeling Project.

Home || About || Membership || Calendar || Join us

---
Outreach || Flagstaff || Photos || Articles || Observing Sites || Weather || Links || Site Map

---
Coordinated Universal Time || National Weather Service
---
info@coconinoastro.org