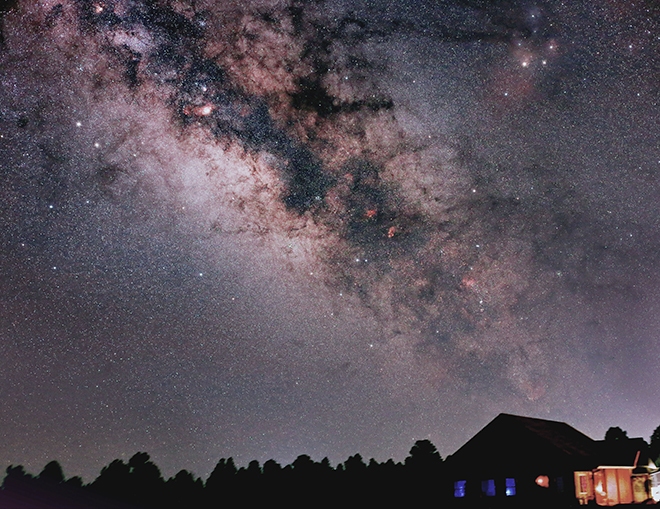 Photo of the Month for May, 2018
Milky Way from my backyard
© 2018
Klaus Brasch
Activities for July, 2018
---
Monthly Meeting at Lowell Observatory

Saturday, July 28, 2018
Dr. Klaus Brasch, CAS

Title: "Life in the Cosmos: when, where and how?"

The origin of life is a major unanswered issue in science. The question is as old as humanity, and explanations have ranged from special creation, to bio-chemistry, to propagation across the Universe by natural forces and even deliberate transmission by technologically advanced civilizations. The discovery of potentially habitable exoplanets and the possibility of life elsewhere in the solar system has renewed the focus on this question. We review some of the key issues involved and the notion that the viable transfer of organisms between planets and beyond may have played a role.
---
CAS Monthly Meetings and Astronomical Programs are held the Saturday closest to the Full Moon at the Mars Hill Campus of Lowell Observatory, Hendricks Center for Planetary Studies Auditorium (6:45 pm - 8:00 pm., unless otherwise noted) followed by refreshments, and informal discussion. Meetings are open and free to the public.

For a full list of this years activities see: CAS 2018 Calendar
What's New
---
Mars reaches perihelic opposition on July 27th
For the first time in 15 years Mars reaches Perihelic Opposition, where the Sun, Earth, and Mars line up and Mars is closest to the Sun in it's orbit. Mars will be closest to the earth since 2003 on July 31st. Mar's next close approach does not occur until 2035. See the following space.com link for more details.
Mars at Opposition 2018: How To See It and What To Expect - Space.com

Also, the July issue of Sky & Telescope Magazine has an article on this topic.
2018 AAVSO Annual Meeting, Flagstaff AZ - November 16-17, 2018
Information is available at the following website: 2018 Grand 2018 AAVSO Meeting in Flagstaff
---

Home || About || Membership || Calendar || Join us

---
Outreach || Flagstaff || Photos || Articles || Observing Sites || Weather || Links || Site Map

---
Coordinated Universal Time || National Weather Service
---
info@coconinoastro.org