Featured Photograph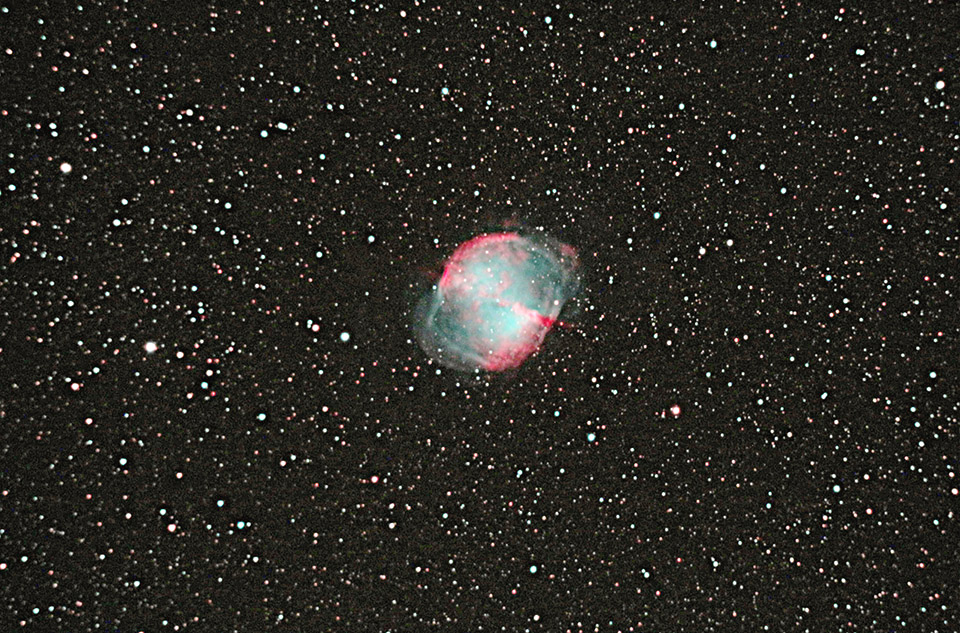 M27, the Dumbbell Nebula, a bright planetary nebula in the constellation Vulpecula, at a distance of about 1227 light-years. Stack of five frames, ISO 1600.
Meade 10" LX200f/6.3 at prime focus
Stack of four frames, ISO 1600, IDAS V4 nebular filter
Total exposure ~ 780 seconds
Richard Edmonds
---
The featured photograph is any astronomical photograph provided by one of our members. If you are a member and have a photogaph you would like to submit please send the request to: info@coconinoastro.org.
Activities for November 2019
---
Monthly Meeting for November
Saturday, November 9, 2019
CAS Member Activity Presentations
Theme: "Great Observatories I have Visited"
Each year CAS members are active in the pursuit of their avocation of Astronomy. At this meeting 4-6 members will present 10-15 minute overviews of the activities and achievements they were involved in during the preceding year.
Klaus Brasch - A visit to the European Southern Observatory
Jim Glish - Some beginners astrophotography
Padraig Houlahan - Checking out using my new camera for astrophotography
Barry Malpas - Design of an Exoplanet Lab
John Volk - Chilean observatories I visited this year.
---
CAS Monthly Meetings and Astronomical Programs are held the Saturday closest to the Full Moon at the Mars Hill Campus of Lowell Observatory, Hendricks Center for Planetary Studies Auditorium (6:45 pm - 8:00 pm., unless otherwise noted) followed by refreshments, and informal discussion. Meetings are open and free to the public.

---